Flowing With Famous - Fresno Culture Podcast
2021-10
Episodes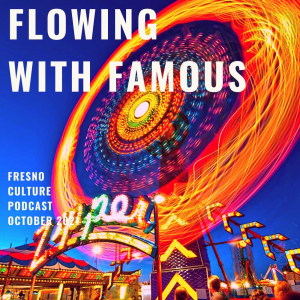 Tuesday Oct 05, 2021
Tuesday Oct 05, 2021

Welcome to October 2021's version of Flowing With Famous!
Since it's October, you know we have got to talk about the Fresno Fair - we definitely break it down and talk about our favorite stuff.
There is also the damn fire smoke and cost of living in California. Oh and tacos, yes tacos - we talk about that BS list and if tacos are OVER in Fresno. Josh has a Covid story and much more!
Band Of The Episode: Fashawn "This Town"
DOWNLOAD: FlowingOct21.mp3(some cussing here and there)
Thanks for checking it out!
(Heads-up: a few cuss words)
Check some links for your hosts:
Thanks for being here!
Josh's other podcast Aikido Discussed. Josh at the Fresno Bee.
Josh's local music newsletter: Bandgeeeek.substack.com.
Josh's bands: It'll Grow Back, Big Balls, and the Strikingly Originals. 
Mikey's new newsletter: Fresno! Fresno! and: Drinking & Thinking.
Check Mike's blogs The Fresnan and Mikey Top Pour.Plus the podcasts Get Off My Podcast, The Perfect Pour.